Clean Better With Cold - Use Blasting Machines
Experienced professionals ready to help you
Dry Ice Blasting Equipment Manufacturers
Dry ice blasting equipment for blast cleaning varies from lightweight, portable blasters to larger, more robust blasting machines. Many manufacturers all over the world produce dry ice blasting equipment. Because it is a fast-growing field, there are newer companies, although the most experienced have been making equipment for over twenty-five years. Some more recent designs offer better ways to reduce noise, more portability, and other useful improvements. The latest includes growing robotic blasters on assembly lines. But, of course, older systems that have a proven track record will always achieve commendable results.
The Right Machine
Different applications may favor specific machines. Sizes range from lightweight, easy-to-haul-up ladders to heavy workhorses.  One significant difference is whether to mix the air and dry ice at the machine and then run one hose for treatment or use two hoses and mix at the nozzle. The two-hose system works better when the blasting is more than twenty-five feet from the blast machine.
There are also many choices of nozzles for various applications.
Therefore, depending upon the application, one machine may work better than another. The larger ones are more versatile and can accomplish a greater variety of tasks.
Air Pressure
Another choice is the pressure of the air coming out. The size of the air compressor producing both pressure and airflow can make a measurable difference. The higher pressure and volume of air will carry more dry ice to the cleaning surface. Metal surfaces can take the most elevated pressure resulting in quicker work. Sometimes, different strata may require a slower blast stream to protect their softer exterior.
Extras
Some companies offer dry ice machines that make their dry ice pellets on the spot to give consistent quality of dry ice. Some companies also produce a CO2 recovery machine along with a dry ice blaster system. For in-house use, these machines will save time and money and pay for their extra expense.
For field applications, smaller, more portable equipment may work better.
Check with different makers and users of blast equipment.
It is never easy to decide which equipment will work best for you. Each job may have its preferred type of machine, yet overall demands may call for a larger, more robust piece of equipment. The best advice is to spend time asking others who are using each particular machine for their recommendations. For example, our

Blasting Contractors page

or our Blast Cleaning Directory lists many contractors all over the world.
Professional Companies Offering Equipmant
Professional Dry Ice Blaster
DIP 50 Dry Ice Pelletizer
At Enviro-Blast, we offer full-service dry ice blasting to a number of different industries.
586 756-4570
 
Warren, MI 48091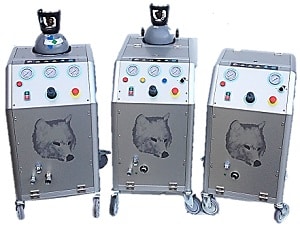 Havdigevej 14
6700 Esbjerg
Denmark

Phone: +45 6966 3060

Web site
: https://polartech.dk/

email:
T
he new generation of Dry Ice Blasting machines. Our machines are connected directly to liquid CO2.
Repair, refurbish, or replace all Phoenix equipment.
Dry ice blasting contract services, machine sales, and rentals.  Serving throughout the US.   Call 803-831-1746 
                   Visit www.dryiceblastingusa.com/

Professional Companies Offering Equipment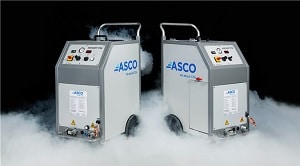 DRY ICE BLASTING
Our ASCO dry ice cleaning technology is a safe and effective method for cleaning machines and surfaces. Our industrial know-how ranges from the plastics, rubber, and automotive industries to foundries and many other applications.
ASCO CARBON DIOXIDE INC.
Orange Park, FL 32073
T +1 904 374 9590 /+1 877 633 0996 (toll free)

www.ascoco2.com
China Professional Dry Ice Maker and Blaster 
Sinocean Industrial Limited
238 South Tongbai Road,
Zhengzhou City 450006 China