See the Advantages of Dry Ice Blasting
Clean with cold.
Dry ice blasting effectively removes oils, adhesives, paints, greases, asphalt tars, rust, soot, biofilms, and carbon deposits.
Deep cleaning dry ice blasting can:
Elimination of toxic chemicals and emissions

Reduction of cleaning solution waste material

Prevention of surface degradation from abrasives

Often quicker reducing equipment downtime
Due to its effectiveness, dry ice blasting is a preferable method for cleaning equipment for a broad range of industries, including:
Aerospace
The aerospace sector relies on dry ice blasting to remove mastic from parts, clean turbine blades and hydraulics, electrical components and circuitry, and landing gear without dangerous chemicals.

Automotive
Dry ice blasting is ideal for cleaning engine blocks and components, undercarriages, wheels and axles, automotive production equipment, and more.

Baking and food processing
Many often use dry ice blasting to clean food waste and oils from ovens, bins, conveyors, belts, mixers, tubes, fans, seals, and production facility walls.

Cannabis and Hemp industries
Dry ice blasting offers reliable means for removing Food contaminants, oils, resins, and other waste from ovens, bins, conveyors, belts, dryers, fans, seals, extraction equipment, production facility walls, floors, and other industry-related equipment and facilities. See

SoCal Kyro Blasting

for more information.

Commercial duct and pipe cleaning
Looking for a fast, easy way to clean impossible-to-reach tight spaces like ductwork and pipes in your plant or facility without shutting down? Turn to Emory Industrial Services for Duct and Pipe Cleaning.

Contaminant remediation
Dry ice blasting offers a reliable means for removing contaminants from production surfaces of all types. See

Interstate Carbonic Enterprises

for more information.

Core box cleaning
Safely clean core boxes online while reducing downtime, improving product quality, and eliminating the risk of damage. See Cold Jet for more information.

Electrical equipment and power plants
Power generation operations often rely on dry ice blasting to clean oil, residue, and rust from turbines, generators, high voltage insulators, installations, cabinets, switchboards, and high-power engines. Dry ice blasting works well in nuclear decontamination and resin removal for transformers.

Engineering Wood
Dry ice blast cleaning will quickly, safely, and effectively clean composite wood production equipment without water, chemicals, or secondary waste.

Fire remediation
Dry ice blasting will remove char, ash, and other damage from usable building components after a fire while deodorizing surfaces.

Foundries and metal production
Foundries use this process for cleaning molds and press equipment, stripping rust and paint, deburring, cleaning welding robots, removing residue, and much more.

Historical restoration
Dry ice blasting removes paint, mold, smoke stains, soot, years of scum, and other aging effects from any surface. It is a powerful and efficient restoration method for historic homes, buildings, and cars. See Continental Carbonic Products for more information.
Dry Ice Blasting Effectively Removes
Oils

Adhesives

Resins

Paints

Greases

Asphalt tars

Biofilms

Rusts

Soot

Many deposits, including carbon
Industries Using Dry Ice Blasting
Medical and
pharmaceutical
Dry ice blasting will maintain stringent sanitation standards demanded in manufacturing for the medical and pharmaceutical fields.

Mining

 
Dry ice blasting effectively removes buildup from mining production equipment, enabling it to operate more efficiently while reducing the risk of breakdowns. See Cold Jet for more information.

Mold Remediation

 
Dry ice blast cleaning is ideal for removing mold and mildew from substrates, walls, floors, and other surfaces for sanitation.

Oil and gas
The key to peak performance in the oil and gas industry depends upon clean electrical and process equipment.

Packaging

 
Dry ice cleaning increases productivity by eliminating unpredictable downtime caused by dirty, hard-to-clean packaging equipment.

Pet food
Like food production, pet food operations rely on dry ice blasting for cleaning production lines, storage tanks, packaging lines, adhesive and sealing equipment, mills, mixers, floors, walls, and more.

Plastics and composites
Plastic molders use this method to remove residue and waste material from conveyor systems, mold, and extruder equipment; resin removal; polyurethane removal; and deburring plastic parts.

Printing Industry


Dry ice blasting helps printers keep equipment clean, such as drums, grippers, rollers, sidewalls, ink trays, gears, print decks, guide escalators, delivery units, feeders, and conveyors, gluers, and paper converting equipment.

Public transportation


Dry ice blasting cleans equipment quicker by replacing time-consuming, manual cleaning methods using chemicals and water, which must be collected and removed.

Surface Preparation 
Prepare surfaces with a dry process that allows immediate coating/paint application.

Textiles
Dry ice blasting removes buildup from production equipment for woven and non-woven textiles.

Tool Die cleaning


Blast cleaning extends the life of composite molds and tool dies by eliminating the need for harsh chemicals, wire brushes, and coarse pads.

Weld line cleaning
Dry Ice Blasting can improve the efficiency and accuracy of automated weld lines. In addition, it removes slag and splatter buildup. See Cold Jet for more information.

There are many companies finding advantages of dry ice blasting

Include your dry ice blast cleaning services or equipment for new customer contacts.
Professional Companies Offering Services
We proudly serve aerospace, defense, automotive, food & beverage, energy, pharmaceutical, chemical, asphalt, concrete, and industrial cannabis and hemp for a wide variety of projects.
Los Angeles, CA
Jason Whipple
(619)559-6836
At Enviro-Blast, we offer full-service dry ice blasting to a number of different industries.
586 756-4570
 
Warren, MI 48091
Repair, refurbish, or replace all Phoenix equipment.
Dry ice blasting contract services, machine sales, and rentals.  Serving throughout the US.   Call 803-831-1746 
                   Visit www.dryiceblastingusa.com/

Professional Companies Offering Blasters
Professional Dry Ice Blaster
DIP 50 Dry Ice Pelletizer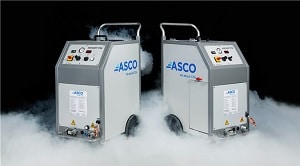 DRY ICE BLASTING
Our ASCO dry ice cleaning technology is a safe and effective method for cleaning machines and surfaces. Our industrial know-how ranges from the plastics, rubber, and automotive industries to foundries and many other applications.
ASCO CARBON DIOXIDE INC.
Orange Park, FL 32073
T +1 904 374 9590 /+1 877 633 0996 (toll free)

www.ascoco2.com